I am very excited to announce that I will be moving my practice to one central location this October!  I will be offering Osteopathic Manual Therapy at InsideOut Health Solutions located near Yonge and Summerhill.  At this time, I will no longer be available for treatments at the Ossington Ave. and Main St. locations.
In one clinic space I will be able to offer greater flexibility in booking throughout the week.  My hours will be
Monday 9am-5pm
Tuesday 12pm-8pm
Wednesday 8am-4pm
Thursday 11am-7pm
Friday 9am-3pm
InsideOut Health Solutions is located on the 4th floor of 99 Crown's Lane, with both an elevator and a staircase for access.  This location is a five minute walk from the Summerhill subway station and there is parking close by.
I look forward to welcoming you to this new space for your treatments this fall!  Thank you for your support.
Online booking is now available here.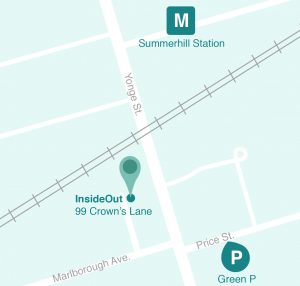 InsideOut Health Solutions
99 Crown's Lane
4th Floor*
Toronto, ON
M5R 3P4
*Elevator and stair access